Seattle THC Tinctures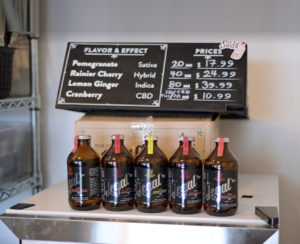 For anyone in or near Seattle, THC tinctures are easy to find—as long as you know where to look. At Green Theory, we carry both THC and CBD tinctures, and we have a varied assortment available. Browse popular brands like Polite, Fairwinds, and Green Revolution.
A cannabis tincture is an infused extract that can be taken sublingually (beneath the tongue) or mixed into foods and beverages. One great thing about tinctures is that they're easy to consume, and they're also easy to measure. So if you need precise dosage, tinctures are the way to go. They're also fast-acting; you'll generally start to feel the effects within 10 to 15 minutes of ingestion. If you're not into smoking or vaping, or if you're just looking for an easy delivery system that will serve you on the go, we invite you to give THC tinctures a try.
At Green Theory, we carry sativa, indica, and hybrid tinctures. Full-spectrum varieties are available, and we have 20:1, 10:1, 5:1, and 1:1 CBD:THC ratios. We also have different concentrations to choose from, ranging from 10mg to 100mg of THC. Choose between dropper and spray varieties, and get a great tincture for as little as $25.
If you don't know which Seattle THC tincture to buy, we've made it easy by offering a selection of products targeted to specific needs. For example, you can find specialty tinctures designed to support calm, sleep, or general well-being. Many of these tinctures are even formulated with additional terpenes to help better promote the effect you're looking for.
If you need a sugar-free, gluten-free, dye-free, or vegan tincture, you can find it at Green Theory. Many of our tinctures are water-soluble, so you can blend them effortlessly into your favorite beverage.
If you're looking for an easier and more discreet cannabis experience, browse our complete selection and compare the best THC tinctures in Seattle.
Shop THC Tinctures at Green Theory Factoria                         Shop THC Tinctures at Green Theory Belred