Travel Information
No trip to the Pacific Northwest is complete without a visit to Green-Theory! Be one of the few in the USA to enjoy legal marijuana!
Green-Theory is proud to be Bellevue's first 21 plus recreational marijuana store. Opening it's original Main Street location in October 2014, Green-Theory serves as a trend setting and progressive marijuana retailer on the Eastside. Now with two locations in Bellevue's Factoria and BelRed neighborhoods to best serve all your marijuana needs, Green-Theory is an easy stop on your way to enjoy the city's fine dining, hotels, shopping, and entertainment with plenty of free drive up parking.

Green-Theory's mission is to partner with best growers across the state who keep the end user's best interest in mind. We ensure every step of production meets our highest standards by establishing close relationships with the most knowledgeable producers and processors in the industry. We are committed to providing our customers with only the highest quality and safest products. All products sold at Green-Theory are tested by independent state certified testing labs.
Customers can expect consistent quality in products provided by a knowledgeable, friendly and professional staff in an intimate retail environment.
Both Green-Theory locations are located in the heart of the Puget Sound region in Bellevue's Factoria and BelRed neighborhoods, just minutes away from the area's major cities and recreational opportunities.
Green-Theory offers the largest selection of the top products and brands in the Washington State and serves Bellevue, Redmond, Sammamish, Kirkland, Issaquah, Newcastle, Mercer Island, Medina, Factoria, in addition to those coming from Seattle.
Green-Theory Factoria
12827 SE 40th PL
Bellevue, WA 98006
Green-Theory Factoria is located right off Factoria Boulevard near the I-405 and I-90 intersect (12 minutes East of Downtown Seattle and 20 minutes North of Sea-Tac International Airport).
Green-Theory BelRed
1940 124th AVE NE
Suite A-101
Bellevue, WA 98005
Green-Theory BelRed is located right off the 520 on/off ramp in North Bellevue right outside the up and coming Spring District neighborhood.
Bellevue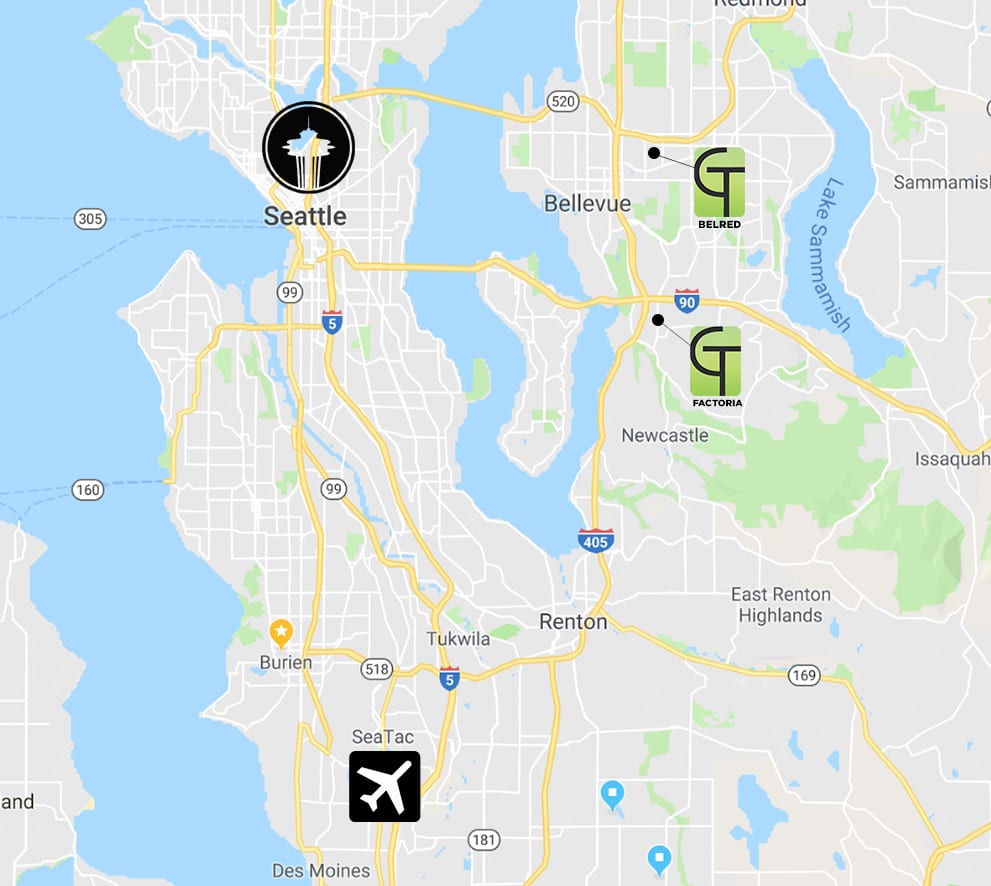 Green Theory is surrounded by magnificent natural beauty and outdoor spaces, Bellevue offers the ultimate in shopping, dining and cultural attractions, all within easy strolling distance of the store. Vibrant, modern and growing, Bellevue is the gateway to the entire Puget Sound region. Within minutes you can explore Seattle's culture and history, visit Kirkland's waterfront parks and galleries, or tour Woodinville's Wine Country, home to over 100 tasting rooms and some of the world's best wines. You can even quench your taste for adventure with a day-trip to nearby mountains for hiking, biking, or skiing. If golfing is your sport the area offers many challenging courses with breath taking views.
The details
Legal marijuana can only be sold and purchased at state-licensed retail stores. A valid photo ID is required, and no one under 21 is allowed on the retail premises. No medical card needed. Just a valid state issued picture ID or your Passport.
• For more information on nearby dining, hotels, shopping and activities:
• Stay

• Wine, Beer, and Booze!

• Play
Lucky Strike Bowling and Nightclub