Seattle Pre-Rolls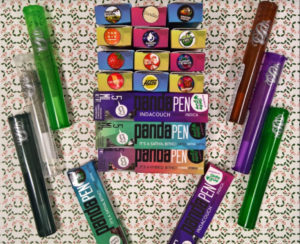 Green Theory is your home for the best pre-rolls in Seattle. We carry the most popular brands like Fire Bros, EXO, F.A.M., Noble Farms, and Seattle Bubble Works, and each product is high-quality and produced locally.
Browse popular strains like Jack Herer, Wedding Cake, Pineapple Express, GG4, and Sour Diesel. If you're looking for a good CBD pre-roll, we offer a selection of high-CBD strains like Harlequin and White Widow.
We even have legendary pre-rolls that have to be seen to be believed—like the elusive $1,000 Miracle Alien Cookies 24k Gold Cannagar (availability may vary). This exclusive pre-roll is made with 12g of top-shelf cannabis from Gold Leaf Gardens and hand-wrapped in 24k gold leaves. It's a hit with celebrities, sports stars, and other trailblazers who demand the finer things.
Browse sativa, indica, and hybrid pre-rolls, and get the relaxing, energizing, or focused effect you've been looking for—and without having to roll a single joint. We even have variety packs that feature a selection of different strains and cultivars, so you can enjoy a unique experience every time you take a hit.
In addition to classic pre-roll joints, we also carry blunts and infused pre-rolls mixed with fresh concentrate like kief, hash, or cannabis oil. When you're seeking the maximum potency, the infused pre-rolls don't disappoint!
Choose between single pre-rolls, 2-packs, 5-packs, and even 50-packs. Prices start at just $6 for singles, and you can get some of our 10-packs for as little as $35. Buy in bulk to get the maximum savings, and take your high even higher.
These handcrafted pre-rolls are perfect for beginners who haven't perfected their rolling skills, and they're suitable for anyone who just doesn't want the hassle or mess of having to hand-roll a joint every time.
Check out our complete menu, and browse the full selection of Seattle pre-rolls today.
Shop Pre-Rolls at Green Theory Factoria                         Shop Pre-Rolls at Green Theory Belred