Seattle Edibles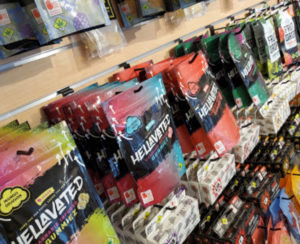 Browse the ultimate selection of Seattle edibles from leading brands like Lush, Craft Elixirs, Flav, Green Revolution, and Ceres. Green Theory has the treats you need to satisfy the munchies, including small-batch chocolates, irresistible brownie bites, mints, and even cannabis-infused candies in an array of flavors.
Our sweets start at just $5, and you can get high-quality baked goods for around $25. If you're looking for top-shelf edibles, you can find premium options for under $40 in most cases. A typical edible delight has up to 10 10mg servings, and a single serving is generally more than enough! At Green Theory, we make it easy to save on the best cannabis edibles.
Choose between sativa, indica, and hybrid edibles, and get just the effect you're looking for, whether you want to relax, focus, get creative, or get stuff done. We even have high-CBD edibles available, including sour jellies, fruit drops, chocolates, and more. Choose between different THC:CBD ratios to find the right balance of cannabinoids to meet your needs.
Our premium marijuana edibles are produced using the best ingredients and production methods. You can count on organic ingredients, handcrafted precision, and reliable lab testing for quality assurance. If you need vegan or gluten-free options, we have those too. We even have edibles made with state-of-the-art nanotechnology for rapid absorption and better bioavailability.
All of our edibles are delicious, potent, and guaranteed to satisfy. Get a complete mind and body experience with just one bite. In most cases, you should start to feel the effects within 30 to 45 minutes, but your tolerance may vary. Just make sure not to overdo it, as the onset time isn't immediate.
Our selection is always changing, so explore our menu to see the latest offerings. Stock up on the best Seattle edibles made from fine sun-grown cannabis.
Shop Edibles at Green Theory Factoria                         Shop Edibles at Green Theory Belred