Green Theory Dispensary Deals & Specials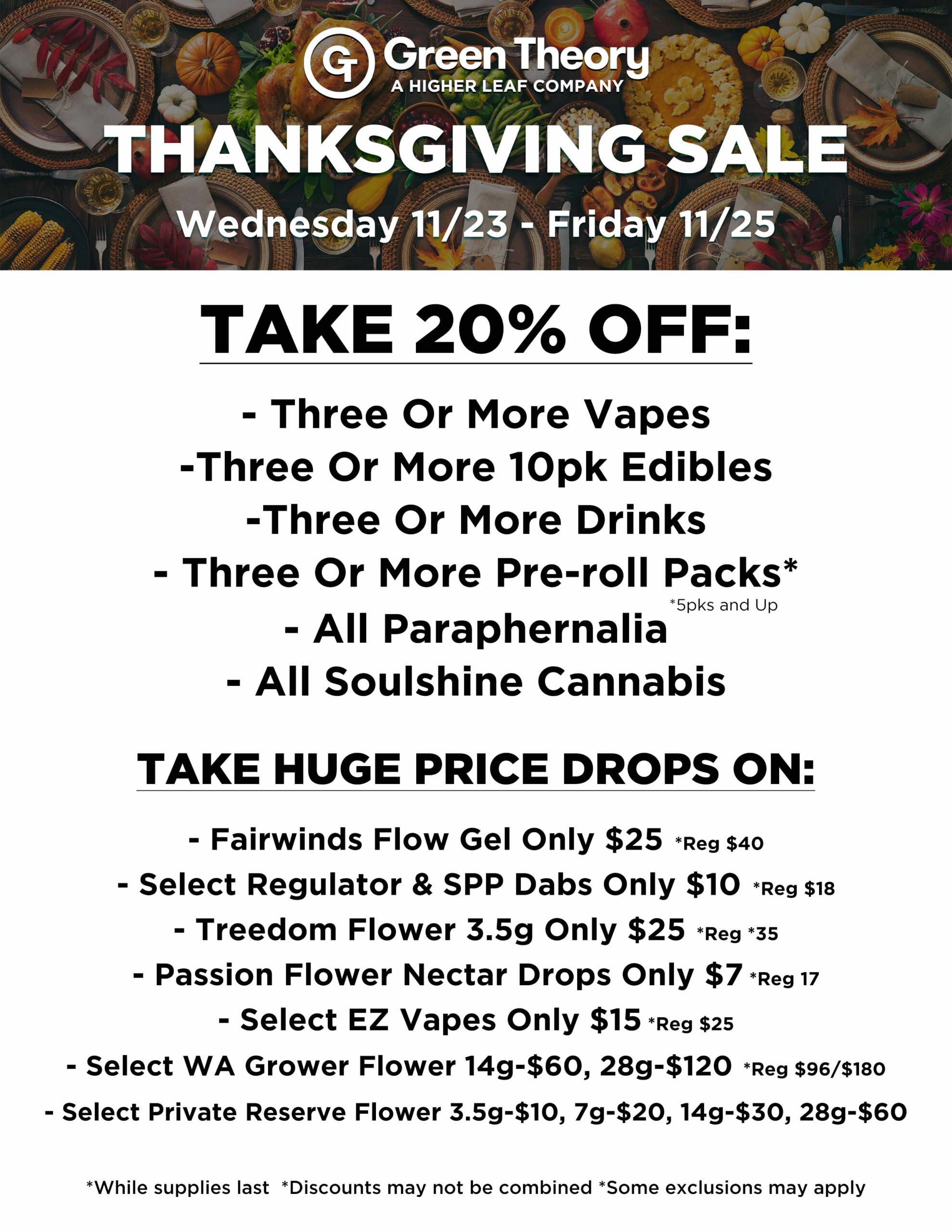 Love saving money on cannabis? With our dispensary deals and specials, you can save every day of the year. Add this page to your favorites so that you never miss an upcoming special.
Frequent Flyer Loyalty Program
Join our Frequent Flyer Loyalty Program and take 20% OFF Every 4th Visit. In addition, you'll get 10% off your first purchase as a new member and another 20% off on your birthday! 
Beverage Deal
Buy six infused beverages and get 20% off every day of the year.
Weekly Deals
High Five Sundays
Buy 5g or more of concentrate or vapes and get 25% off.
Fill Up Friday
Buy 28g of flower and save 25%
Price-Matching
Find the same product for cheaper at another King County, WA I-502 retail store? We'll match it!
Annual Deals
Bookmark this page and keep checking in for special deals throughout the year. Here are just a few that you can look forward to: 
420 Dispensary Deals
Celebrate 420 with special cannabis deals.
Mother's Day Dispensary Deals
Give Mom the break she needs with our Mother's Day deals.
Memorial Day Dispensary Deals
Remember the fallen and thank our vets with Memorial Day deals.
Father's Day Dispensary Deals
Thank Dad with our special Father's Day deals.
4th of July Dispensary Deals
Elevate your Independence Day celebrations with discounted cannabis.
Halloween Dispensary Deals
THC-infused candy makes for a truly Happy Halloween. Check back for Halloween deals.
Thanksgiving Dispensary Deals
Saying "thanks" from us to you.
Black Friday Dispensary Deals
Stock up with our Black Friday deals.
Cyber Monday Dispensary Deals
We have Cyber Monday cannabis deals for pickup in our BelRed dispensary and Factoria dispensary.
Never Miss a Sale
Make sure you're in the know about all of Green Theory's dispensary deals and markdowns. Sign up for our Green-Elite newsletter using the form at the bottom of this page, or sign up for our loyalty program on your next visit. Save money by shopping at Green Theory in Seattle today!